Kapha Stress Relief Capsules

Personalized Stress Relief, Optimized for the Kapha Body Type
Veda Warrior's Kapha Stress Relief Capsules are made with some of the most powerful superplants on Planet Earth, formulated using deep knowledge of botany and human biology from the 5,000 year old philosophy of Ayurveda—the world's oldest medical science. Our personalized formulas are optimized for the Kapha mind-body type based on ancient Ayurvedic principles to promote faster and more effective stress relief.
Our formula was created by our team of Ayurvedic doctors and PhD chemists with over 20 years of experience in the formulation of Ayurvedic medicines and softgels. Our products were manufactured in a state-of-the-art, FDA-compliant facility using premium hemp grown in the Hudson Valley.
PRODUCT OVERVIEW:
30 Stress Relief CBD capsules (Kapha-optimized formula)
10mg CBD, 0% THC per capsule (certified by third-party lab testing facility)
10 plant-based ingredients
Vegan softgel for faster absorption than hard capsules
Small batch formulation
FREE personalized 360° holistic stress relief profile, tailored to you based on your quiz results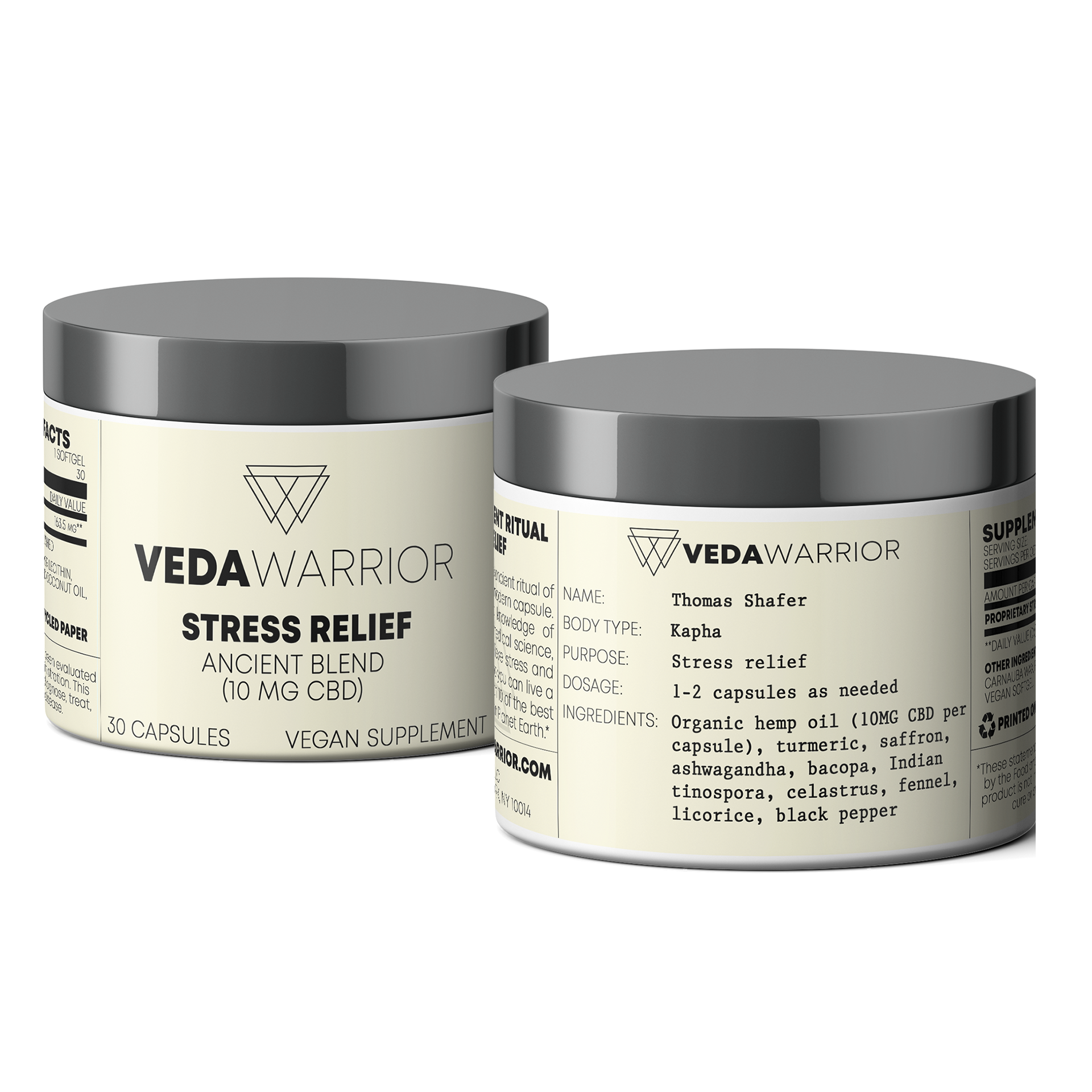 INGREDIENTS

DOSAGE

WHAT TO EXPECT
We have carefully selected the ingredients for our Stress Relief formulas based on rigorous research of ancient and medieval Ayurvedic texts. These superplants are blended together in proprietary formulas using different amounts of each ingredient depending on your body type. This approach helps us create the optimal formula to maximize the stress-relieving efficiency of each capsule.
| | | | | |
| --- | --- | --- | --- | --- |
| Name | Scientific Name | Ayurvedic Name | Origin | Benefits* |
| | | | | Supports stress relief, promotes calm and relaxation, reduces stress-related inflammation* |
| | | | | Helps reverse cell damage from chronic stress, reduces stress-related inflammation* |
| | | | | Relieves stress and anxiety, reduces symptoms of depression* |
| | | | | Relieves anxiety and depression* |
| | | | | Relieves stress and anxiety, boosts brain cognitive function* |
| | | | | Known as the "intellect herb," enhances brain cognitive function, improves memory* |
| | | | | Promotes detoxification, rejuvenation and boosts immunity* |
| | | | | |
| | | | | Promotes mental alertness and rejuvenation* |
| | | | | |
Other ingredients: sunflower lecithin, carnauba oil, fractionated coconut oil, vegan softgel
Questions? We're here to help! Reach out to us at info@vedawarrior.com. We will respond within 24 hours. Certificate of Analysis available upon request.
How Much to Take and When
Our Stress Relief capsules will have dosage recommendations, including how many capsules to take and at what time of the day, printed on the label based on your quiz results. Our recommendations are crafted by our resident Head of Ayurveda, an Ayurvedic practitioner with over 15 years of experience who has helped hundreds of patients manage their health with the ancient plant wisdom of Ayurveda.
The dosage recommendations are based on your gender, height, weight and body type.*
Note: If you are trying to conceive, pregnant or nursing, please consult your physician prior to taking this product.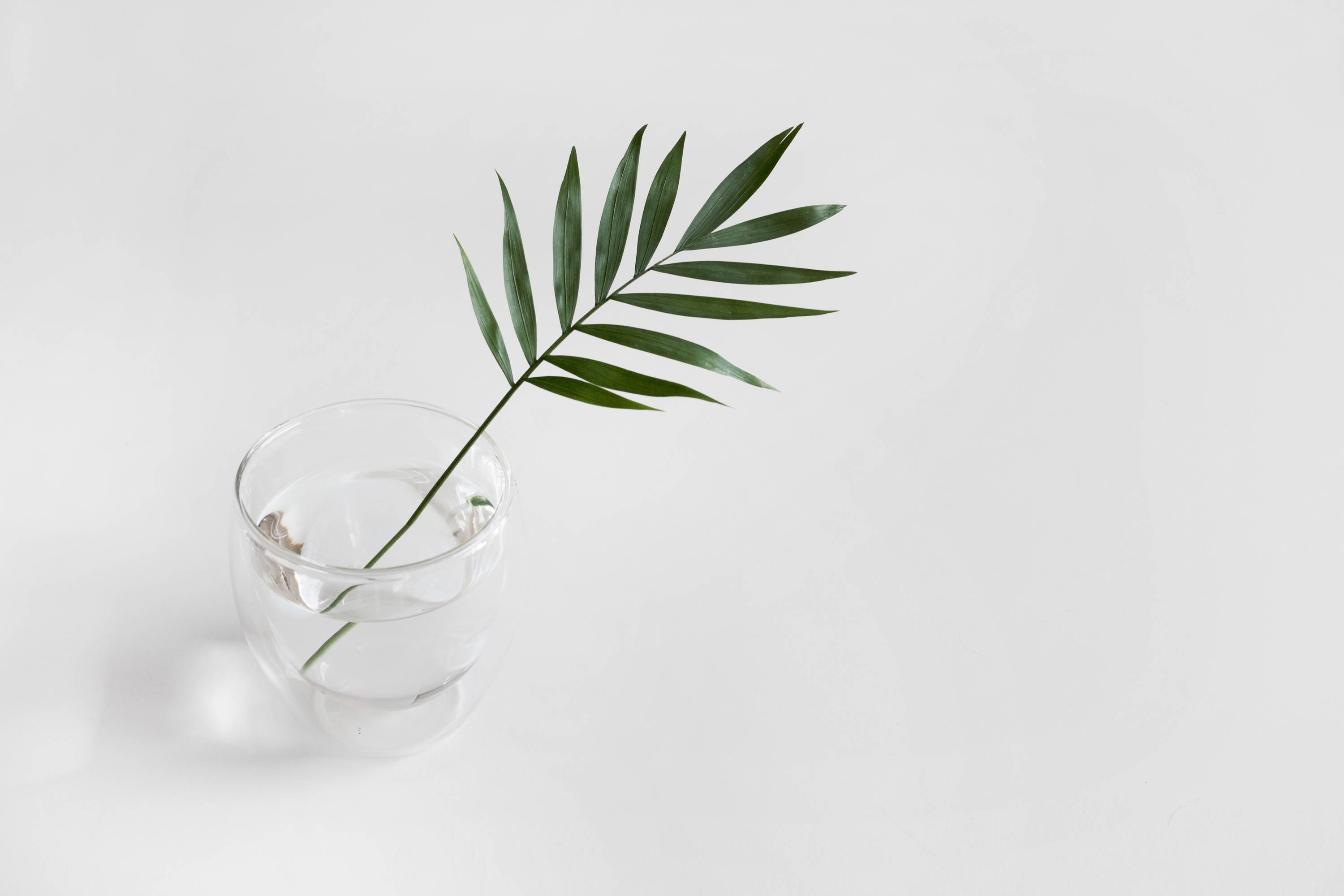 What Am I Supposed to Feel?
Our product uses organic hemp oil with 10mg CBD and 0% THC, meaning that it is a non-psychoactive formula and you will not feel a high of any kind.
After taking this product people generally feel calmer, more focused and have greater mental clarity. In the ancient Ayurvedic context, similar herbal blends were used to enhance meditation and yoga practices, as this medley of ingredients was said to increase intuitive abilities.*
This product was designed to enhance your daily stress relief routine. While we expect that you will see results soon after taking the product, we recommend consistent use (ideally daily) for two months to experience the full power of this product on your mind and body.